Think bacon, think breakfast. With International Bacon Day on the horizon (Saturday 05 September), we thought we'd treat you to two cracking brekkie recipes to get your day off to the best start.
If a classic fry-up is what gets you moving in the morning, our brand new full Welsh breakfast recipe is made for you. The trio of porc – encompassing crispy back bacon, sausages and black pudding – is served alongside laverbread potato rosti for an original Welsh wake up call.
Or, for those of you who enjoy a hearty breakfast but not the pressure of juggling all the different elements, give these satisfying porc and bacon brunch patties a go. They taste equally delicious served simply with cherry tomatoes and a poached egg, or you can go full-carb by adding a lightly toasted English muffin.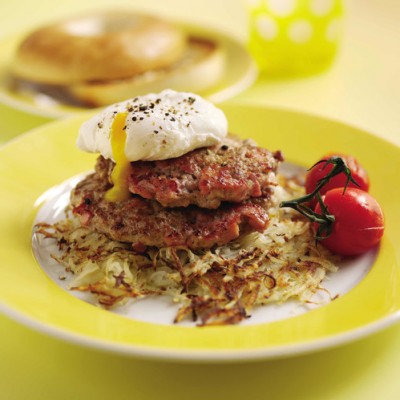 The best news of all for bacon lovers is that, contrary to popular belief and its somewhat bad rep, bacon doesn't have to be unhealthy. Here's how:
Quality dry-cured bacon bought from your local Porc Blasus producer or supplier is likely to have less preservatives and additives in it than regular supermarket-bought bacon. The dry-curing method also means it will give off less water during the cooking process, so what you see when you buy it really is what you get.
Back bacon is much lower in fat than you might think, especially when trimmed of the rind and grilled rather than fried.
Eaten in moderation (around 70-100g per portion) and as part of a healthy balanced diet, bacon along with other porc cuts is a source of nutrients and a rich source of B vitamins, including B3, B6 and B12, which keep the nervous system healthy and linked to vitality and general good health.
For even more recipe inspiration, just visit our recipes page.